Regular Orthodontics in Richardson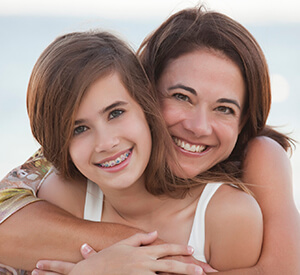 Even if we're able to provide early orthodontic intervention, we'll likely encourage patients to go on with regular orthodontic care beginning around the age of 12. This is typically when all baby teeth are lost and adult teeth have erupted from the gum line. We may recommend braces or Invisalign depending on your needs, but the goal of regular orthodontic care is simple. We want to improve the look, feel, and function of the smile, so patients are able to maintain their optimal level of oral health for a lifetime.
Indications for Orthodontic Treatment
There are a number of indicators you may notice or a regular checkup may uncover that indicate a need for orthodontic intervention. If you notice any combination of the follow symptoms, we encourage you to talk to your general dentist to determine whether or not you may benefit from orthodontic treatment:
Discomfort or difficulty when chewing
Chronic mouth breathing
For younger patients, thumb or finger sucking
Crowding, wide gaps between teeth, or otherwise uneven spacing
Teeth that do not erupt
Teeth that erupt in an inappropriate position
Teeth that do not develop
Jaw that is improperly positioned or that shifts out of alignment when you bite
Biting into soft tissue when chewing
Over, under, or crossbite
Teeth that don't close together, sometimes called an open or deep bite
Lips that do not close over teeth
Braces Step by Step
Initial Consultation
We'll start with a careful evaluation including digital Ceph x-rays and panoramic scans, so we have a complete understanding of your smile, how the bite fits together, and what orthodontic care you may need. We'll be happy to answer any questions you may have, explain your treatment options, and partner with you to create a personalized plan for ongoing oral health care. Before the end of your visit, we'll review your treatment options, provide estimates for the duration of treatment and costs of care, and work with you to determine what orthodontic treatment will most benefit your smile.
Initial Bonding Appointment
As soon as we can following your initial consultation, we'll schedule your first treatment appointment. The first treatment is the attachment of your brackets and spacers. The brackets are the pieces bonded to the front of the tooth that allow bands and wires to place pressure on teeth causing them to move. Spacers make room for bands. If your bracket or spacer comes out prior to your banding appointment, please call us right away, so we can reattach these. You'll also need to provide a letter from your general dentist that verifies you are free from decay, gum disease, or other oral health concerns. The appointment itself typically takes a little over an hour.
Banding
Prior to the banding appointment, you may need to have one or more teeth removed. This is necessary if you are experiencing crowding or have other significant concerns with the eruption of teeth. We will not be able to attach your bands and wires until after this is completed. About two weeks after your bonding appointment, you'll visit us for banding. We'll remove spacers and attach bands and wires, adjusting them as necessary to place pressure on teeth to move them into position.
Adjustments
Every four to six weeks, you'll come back to our office, so we can adjust your bands and wires. These visits will continue at regular intervals until the end of your treatment. You should plan for each of your adjustments to take about half an hour.
Debanding Visit
We will remove all brackets and wires at this appointment and supply your retainer. This treatment takes about an hour.
Final Appointment
About a month after the debanding visit, you'll return for your final appointment. We'll capture photos and x-rays to ensure you've achieved the desired results. We will also check the fit and comfort of your retainer. Plan to be in our office for about half an hour.