Implant-Retained Denture – Richardson, TX
Secure Your Denture with Dental Implants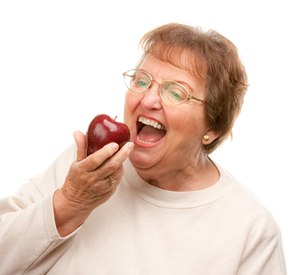 New innovations in dentistry make it possible to preserve natural teeth for longer than before. Unfortunately, despite the latest advancements, many people still experience tooth loss. If you're among the 35 million Americans who have lost all their teeth, you can enjoy the next best thing to what nature gave you using dental implants in Richardson. At EPO Dental Specialists, we can rebuild your smile with an implant-retained denture.
How Do Implant-Retained Dentures Work?
A traditional denture has been used for well over 100 years because it's a convenient solution to replace an entire arch of missing teeth. Although they have a bad reputation for looking and feeling fake, new advancements allow them to be more realistic than ever. Unfortunately, they will always have their limitations because they only treat the crowns of your teeth. The denture is held in place using suction or an adhesive.
An implant-retained denture is different because it replaces the entire structures of your teeth. An average of 4 to 8 implant posts are surgically placed into your jawbone to replicate your roots. This also allows your denture to be secured to your jawbone, so you'll never need to worry about any slipping or irritation again.
Am I a Candidate for Implant-Retained Dentures?
If traditional dentures didn't give you the results you wanted, you may be a candidate for dental implants. The long-term success of your new smile relies on your jawbone supporting the posts and remaining infection-free. As a result, you must have good oral and general health.
Besides a visual examination, your periodontist in Richardson will also take a CT scan to have a clear picture of your oral health. Based on the results of the examination, you may need additional treatments before your implant placement procedure, such as periodontal therapy or bone grafting.
Implant-Retained Dentures Procedure
Unlike traditional dentures in Richardson, the process to receive dental implants involves multiple steps over the course of several weeks. After you've healed from any previous treatments, you'll have an oral surgery to strategically place the implant posts into your jawbone. You'll spend the next several weeks healing as your jawbone fuses to the posts through a process called osseointegration. Once your jaw has healed, special fixtures are placed on each post to connect your custom-made denture.
Benefits of Combining Dentures & Dental Implants
Replacing both the root and the crown of your tooth allows you to experience superior results that aren't possible with a traditional denture, including:
Over a 95% success rate for a long-term solution.
Looks natural to restore your confidence.
Regain 70% of your natural biting force.
Preserves your jawbone's density.
Supports your facial tissues for a youthful appearance.
Easy maintenance and care.
Cost-effective because it can last for decades.
Schedule Your Appointment Today!
You can conquer the complications of tooth loss with the next best thing to what you lost. Contact our office today to see if implant-retained dentures are right for you. We look forward to rebuilding your smile with dental implants.