Dental Implants — Richardson, TX
The Next Best Thing to Natural Teeth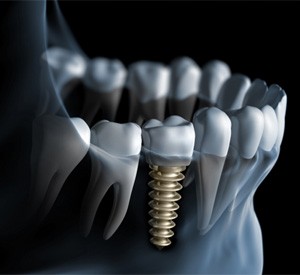 Dental implants are small posts that resemble screws. When inserted into the area where a missing tooth once was, these implant posts fuse with natural gum and bone tissue. This allows them to seamlessly mimic the lost root structures of missing teeth. At EPO Dental Specialists, we can use dental implants to help our patients replace any number of missing teeth. If you've lost a single tooth or a full arch of teeth, contact our office to schedule a dental implant consultation. Our periodontal specialist, Dr. Yaritza Vazquez , has advanced training in the surgical placement of dental implant posts and can provide safe, effective treatment in our Richardson, TX practice.
Why Choose EPO Dental Specialists For Dental Implants?
#1 Start-to-Finish Dental Implant Treatment
#2 Highly Experienced Specialists with Years of Advanced Training
#3 Permanently Replace Any Number of Missing Teeth
What Are Dental Implants?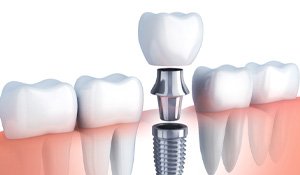 Implants are small, titanium posts that are inserted into the mouth where a missing tooth once was. They offer a strong and natural support structure for a replacement tooth or teeth so they look, feel, and function just like healthy teeth. Unlike other tooth replacement options like dentures or dental bridges that restore missing teeth above the gum line, patients who receive dental implant-supported tooth replacements experience significant improvements in chewing ability, comfort, appearance, long-term well-being, and more. Overall, dental implants are widely considered by patients and specialists alike to be the next best thing to natural teeth.
The Dental Implant Process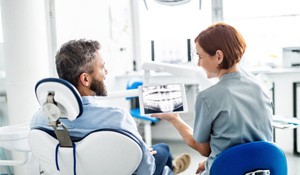 Dental implants are surgically placed below the gum line to anchor one or more replacement teeth into position. Depending on the number and position of implants to be placed, the surgical procedure can last anywhere from half an hour to several hours. Our skilled periodontist has years of training and experience to provide safe, effective dental implant placement. Regardless of the number of implants necessary, the procedure remains relatively the same. We make a small incision in the gum tissue and position the implant post into the jawbone. Then, a protective cap is placed over the implant to preserve the space necessary to attach the abutment and restoration.
For some patients, we may attach a temporary restoration right away, but many patients need to wait several months to allow the implant post to fuse with the jawbone. This fusion between the dental implant post and the gum and bone tissue is known as osseointegration, and it is the key to optimizing the longevity of your replacement tooth or teeth.
Learn More About Surgical Instructions
Benefits of Dental Implants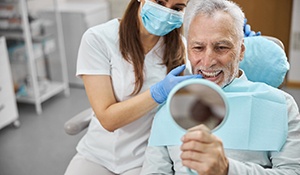 In all honesty, dental implants are the gold standard of tooth replacement. They're so well-regarded that dentists place over 500,000 of them yearly! Still, this much is natural – implants' unique placement gives them perks you won't find with other restorations. As a result, these prosthetic teeth can dramatically improve your quality of life. If you'd like further details, we at EPO Dental Specialists will happily tell you more. Just keep reading or call our office for the facts.
Day-to-Day Benefits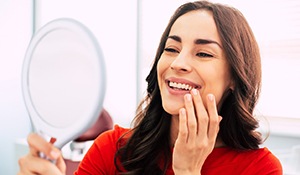 As you'd expect, the most apparent implant benefits are the day-to-day ones. You'll notice them soon after treatment is done. In particular, they include:
A Beautiful Smile – Due to using high-quality porcelain, implants look beautiful and blend seamlessly with surrounding teeth. They'll thus enhance your grin's looks. In fact, your peers likely won't tell them apart from natural teeth.
A Confidence Boost – Since implants restore your smile, they typically boost your confidence and body image. You'll then feel more at ease in social situations.
Better Chewing Ability – Remember, implants fuse with your jawbone over time. That means they stay secure and strengthen your bite force. From there, they'll allow you to chew and eat your favorite foods!
Easy Maintenance – Unlike dentures or bridges, implants are easy to maintain. You simply need to clean them as you would natural teeth. In particular, just brush them twice daily and floss them once daily. Add in some mouthwash, too, and they'll last a good while.
Health Benefits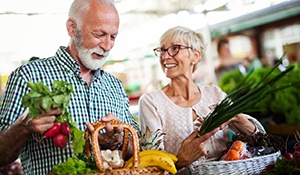 Implants' advantages also extend to your physical health. As such, you can expect treatment to give you a stronger body. The specific health perks are:
A Stronger Jawbone – Left unchecked, tooth loss will erode your jaw. You'll then suffer facial collapse – a condition that greatly ages your face. Luckily, however, implants prevent and even reverse this erosion. They stimulate your jawbone and maintain its bone density.
Support for Natural Teeth – Besides being unseemly, smile gaps can make your other pearly whites tilt and fall out. That said, implants can fill those spaces, reducing the odds of further tooth loss.
Fewer Oral Issues – Because implants are easy to clean, getting them often improves a patient's oral health. Your new teeth will then lower your risk of cavities, gum disease, and similar issues.
Long-term Benefits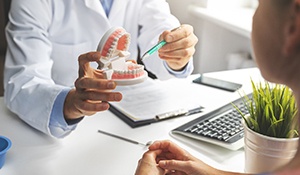 Of course, what really sets implants apart are their long-term benefits. These upsides make treatment a great investment. Consider, for instance, those listed below:
High Success Rate – When placed by a qualified dentist, implants are successful for a long time. Their ten-year success rate even sits at over 95%.
Little-to-No Replacement – Implants' average lifespan is 15-20 years, which can be further extended with proper care. As such, they need to be replaced as often as other restorations.
Save Money – Given their lifespan (see above), implants save you money in the long run. In contrast, bridges and implants only last five to seven years. Consequently, they need frequent (and pricy) repairs and replacements.
Who Dental Implants Can Help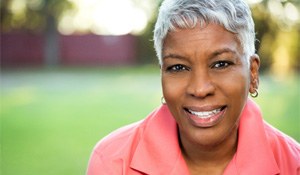 During your oral and overall health evaluation, we'll carefully examine your smile, capture X-rays, and partner with you to determine whether or not you are a viable candidate for dental implants. We'll discuss your health history, any past surgeries, and explain the time and financial commitment involved in dental implant retained tooth replacement. This may include an evaluation of your dental or medical insurance coverage. If you ever have questions or concerns about the treatment, please let us know right away. Our skilled periodontist will be happy to walk you through even the most intricate parts of your procedures.
Learn More About Implant Dentures
Learn More About All-On-4 Dental Implants
Understanding the Cost of Dental Implants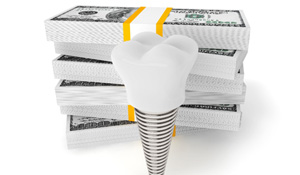 As remarkable as dental implants are, many people hesitate to commit to them because they are worried about the price of this procedure. Indeed, each step in the treatment process, from preparatory work to restoration, may come with a significant cost. But implants are more than worth the money! Furthermore, you may be surprised by how easy it is to fit this life-changing procedure into your budget when you take advantage of insurance and low-interest financing.
How Much Dental Implants Cost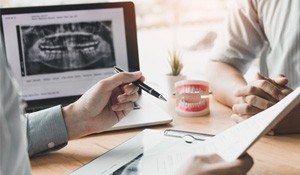 It's impossible to give a generalized estimate of how much dental implants in Richardson cost because every patient's mouth is unique. There are a number of factors that go into determining the amount of the final bill, including:
Preliminary work . Some patients require extractions or gum disease treatment before they can receive implants. Others may require a bone graft or sinus lift.
The number and type of implants received . Logically, more implants your periodontist in Richardson has to place, the more your procedure will cost.
The restoration . The materials used to make your artificial teeth, as well as the number of teeth that the restoration is replacing, will affect the total price of the treatment.
When you attend your consultation in our office, our staff can give you a concrete idea of how much your treatment will cost.
Keys to Affording Dental Implants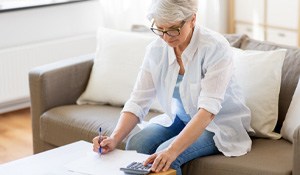 Although implants do cost quite a bit of money, many patients are surprised by how easy they are to afford. Here are a few resources you may be able to use to fit your new smile into your budget:
Dental insurance . More and more dental insurance plans are changing their policies to cover implants. Even if your insurance doesn't cover implants, however, it may still help with the cost of extractions, gum disease treatment, and/or your prosthetic teeth.
Flexible Financing. Our office partners with CareCredit, which provides low- or no-interest financing for dental treatments.
Are Dental Implants A Worthwhile Investment?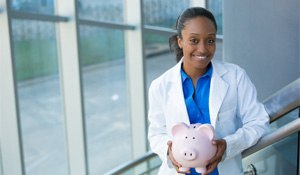 Are implants really worth all that money? Yes! Since they have the potential to last a lifetime, you'll never have to worry about replacing them. That is in contrast to other tooth replacement options, which may fail after 5 – 10 years or so. Also, since implants help to preserve the jawbone and provide an extremely strong bite and natural appearance, the practical benefits they provide offer unquantifiable value.
To learn more about dental implants or to get started on exploring your options for paying for this procedure, get in touch with our friendly team today.
Advanced Dental Implant Procedures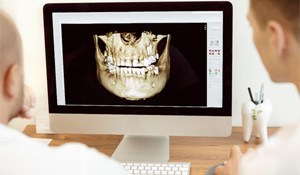 It is essential for a patient's mouth to be healthy in order to get dental implants. Additionally, the jawbone needs to have adequate density to successfully support the replacement teeth. As tooth loss naturally results in bone reabsorption, these factors can often be a hinderance for patients who would otherwise be excellent dental implant candidates.
Fortunately, we offer a variety of advanced dental implant procedures that can help you become eligible for a successful dental implant treatment. During your initial consultation, we will closely evaluate the imaging of your mouth to determine if you need any of these services before moving forward with dental implants. Depending on your unique situation, you may need a bone graft, a sinus lift, ridge expansion, jawbone regeneration, or nerve repositioning. We also offer ridge preservation to support the jawbone and surrounding oral structures once a tooth or teeth have been lost.
Learn More About Advanced Dental Implant Procedures
Learn More About Bone Regeneration
Learn More About Ridge Preservation
Dental Implant Post-Op Instructions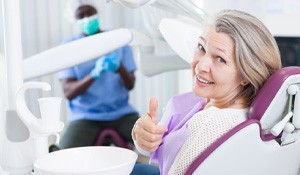 Once your dental implants have been surgically placed, you'll need to follow a set of post-op instructions. Not only will these guidelines help you stay comfortable while you heal and speed up the process, but they will maximize your chance of enjoying long-term success.
Maintaining & Caring for Your Dental Implants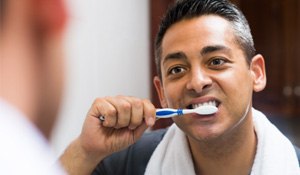 With proper care, dental implants will last two or more decades without the need for repair or replacement. In fact, many patients are able to maintain their implant-supported tooth replacement for the rest of their lives! What can you do to help your new smile stand the test of time? Read on below to discover some helpful tips for dental implant maintenance.
Make Oral Hygiene a Priority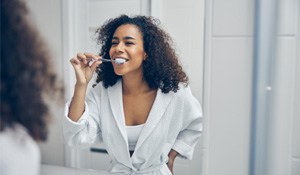 Your dental implants cannot develop cavities, but they can accumulate plaque. Even worse, bacteria can sneak into the surrounding tissue and cause a dangerous infection. Fortunately, such issues are usually easy to prevent via thorough oral hygiene. Be sure to gently brush your teeth twice each day; pay special attention to the area along your gumline. Daily flossing and the use of an antibacterial mouth rinse may also be beneficial.
Eat a Healthy Diet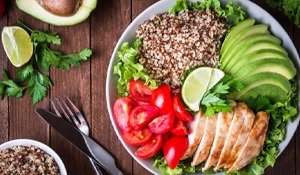 Dental implants can enable you to eat whatever you want, so feel free to enjoy all of your favorite snacks and meals. However, keep in mind that, just like natural teeth, some foods are better for dental implants than others. Try to minimize your intake of hard, sticky, and sugary foods. Instead, center your diet on items that are rich in nutrients that support oral health. Things like dairy products, fresh vegetables, and lean proteins can all be great choices.
Break Bad Habits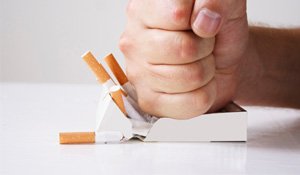 Bad habits have the potential to damage your implants or even cause them to fail altogether. If you do any of the following, you should make every effort to stop:
Smoke or use chewing tobacco. Any tobacco or nicotine-containing products can increase the risk of oral infections.
Chewing on hard objects. Biting down on ice, pen caps, or other hard items can damage your implant restorations.
Using your teeth as tools. Instead of using your teeth to open packages or trim your fingernails, use tools that are designed specifically for what you are trying to accomplish.
Protect Your Dental Implants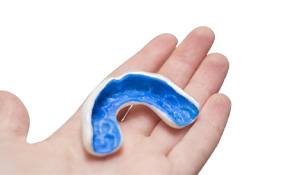 If you play sports, you should protect your dental implants by wearing a mouthguard during practice and games. Keep in mind that custom mouthguards from a dentist provide better protection than any that you can purchase over the counter.
If you tend to grind and clench your teeth at night, you may need a different kind of mouthguard — one that is designed to place a barrier between your upper and lower teeth with the goal of protecting them from each other.
Schedule Regular Dental Checkups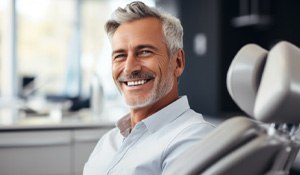 Even if you no longer have any of your natural teeth, it will remain important for you to visit your general dentist twice a year for a cleaning and checkup. They will remove your restorations, thoroughly clean your implants, and inspect your mouth for any signs of infection or other problems. Hopefully, they will be able to catch and treat any developing issues before they pose a serious threat to your oral health.
Dental Implant FAQs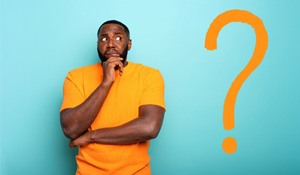 If you're considering an advanced dental treatment like dental implant-supported tooth replacement, the EPO Dental Specialists team members know you'll have a lot of questions. Our caring dental specialists and team are always happy to talk to you about your concerns, treatment options, and questions. Whether you're in our office for a dental appointment or call on the phone, one of our knowledgeable team members will be happy to help. If we don't know the answer to your questions, we'll find it and get back in touch with you quickly. Below, you'll find the answers to some of the questions we hear most often from patients planning for dental implant tooth replacement. If you don't see the question you're looking for, please give our caring Richardson dentistry team a call today. We'll be happy to help.
How Many Dental Implants Do I Need?
The number of dental implants you need will depend on how many missing teeth you have. In most cases, we recommend the following:
Replacing one individual tooth or two consecutive teeth is often accomplished with a single dental implant and a dental crown (or two dental crowns fused together).
Three or four consecutive missing teeth will typically be replaced with a dental bridge that is supported by two dental implants on either side.
Replacing multiple missing teeth throughout the mouth with a partial implant denture or an entire arch of missing teeth with a full implant denture may take anywhere from three to six dental implants.
How Long Does The Dental Implant Tooth Replacement Process Take?
The implant placement and tooth replacement restoration can take several months to a year or longer to complete. The majority of this time will be spent simply waiting and monitoring the implant posts as they fuse with the supportive tooth structures. You will only need to visit our office for a few treatment appointments.
How Much Do Dental Implants Cost?
The cost of your dental implant restoration will vary greatly depending on a variety of factors, including, the implant material, the number and placement of missing teeth, the need for preparatory treatments, and more. We will walk you through costs associated with your particular treatment plan, dental insurance coverage, and other factors that may impact the cost of your dental care. Before we get started with your implant-supported tooth replacement plan, we'll be happy to help you budget for your treatment.
What Are Dental Implants Made Of?
Dental implant posts are available in a variety of materials that each have advantages and disadvantages. The longest used is titanium, and this material has been utilized in tooth replacement and bone repairs for decades. You can also receive dental implants crafted from a variety of materials, including metal-free zirconia.