Richardson Dental Implant Supported Tooth Replacement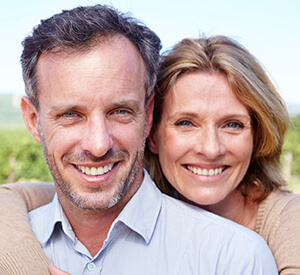 Implants are small, titanium posts inserted below the gum line that offer a support structure for a replacement tooth or teeth so they look, feel, and function more like healthy teeth. Unlike other tooth replacement procedures that restore only those parts of the tooth visible above the gum line, patients who receive dental implant supported tooth replacements experience significant improvement in their ability to chew a wider array of foods, even those that are difficult or impossible to eat with other forms of tooth replacement. Additionally, those patients who choose dental implant supported tooth replacements are less likely to experience diminished jawbone density. If you've lost a single tooth or a full arch of teeth, contact our office to schedule a dental implant consultation. Our periodontal specialist, Dr. Yaritza Vazquez, has advanced training in the surgical placement of dental implant posts and can provide safe, effective treatment in our Richardson, TX practice.
Evaluation
During your oral and overall health evaluation, we'll carefully examine your smile, capture x-rays, and partner with you to determine whether or not you would be a viable candidate for implant supported tooth replacement. We'll discuss your health history, any past surgeries, and explain the time and financial commitment involved in dental implant retained tooth replacement. This may include an evaluation of your dental or medical insurance coverage. If you ever have questions or concerns about the treatment, please let us know right away. Our skilled periodontist will be happy to walk you through even the most intricate parts of your procedures.
Dental Implant Process
Dental implants are surgically placed below the gum line to anchor one or more replacement teeth into position. Depending on the number and position of implants to be placed, the surgical procedure can last anywhere from half an hour to several hours. Our skilled periodontist has years of training and experience to provide safe, effective dental implant placement. Regardless of the number of implants necessary, the procedure remains relatively the same. We make a small incision in the gum tissue and position the implant post into the jawbone. Then, a protective cap is placed over the implant to preserve the space necessary to attach the abutment and restoration. For some patients, we may attach a temporary restoration right away, but many patients need to wait several months to allow the implant post to fuse with the jawbone. This fusion between the dental implant post and the gum and bone tissue is known as osseointegration, and it is the key to optimizing the longevity of your replacement tooth or teeth.
Cost of Dental Implants
As remarkable as dental implants are, many people hesitate to commit to them because they are worried about the price of this procedure. Indeed, each step in the treatment process, from preparatory work to restoration, may come with a significant cost. But implants are more than worth the money! Furthermore, you may be surprised by how easy it is to fit this life-changing procedure into your budget when you take advantage of insurance and low-interest financing.