Nitrous Oxide Sedation – Richardson, TX
The Solution to Your Dental Anxieties
When you think about getting dental work done, does your heart start racing? If so, you're far from the only one. An estimated 60% of Americans deal with some kind of anxiety surrounding the idea of receiving dental care. Because this kind of fear is so common, dentistry has developed many solutions, one of which is known as nitrous oxide sedation. This treatment allows you to relax enough in the dental chair to get the care you need to have a healthy, beautiful smile. Whether you need extensive work done or you're scared of the sights and sounds of a dental office, nitrous oxide from a sedation dentist in Richardson may be just what you need. Contact us today to learn more.
How Nitrous Oxide Works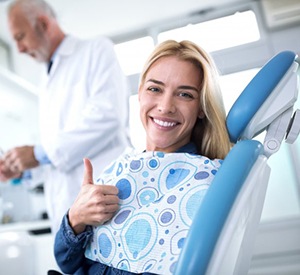 Nitrous oxide is better known as "laughing gas" due to the relaxed state of euphoria it produces. Once you begin breathing in this colorless, odorless gas through a mask placed over your nose, its effects should set in quickly. When compared to other methods of sedation, our dentists have greater control over nitrous oxide. Throughout your procedure, we can adjust the dosage as needed to maximize your comfort.
Contrary to what you might have heard, nitrous oxide doesn't actually "put you to sleep." Instead, you'll be so relaxed that you might occasionally doze off, but we can wake you up if that occurs. You'll be conscious enough to respond to our requests during the procedure. You may feel a little light-headed or experience a tingling sensation in your arms and legs. Generally, you'll feel calm and comfortable. You probably won't be very aware of the environment around you, and you may not even remember the procedure afterward.
Is Nitrous Oxide Right for Me?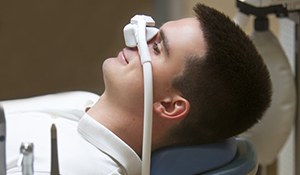 You may be a candidate for nitrous oxide sedation if you have any of the following:
Fears or anxieties about undergoing dental care
Sensitive teeth or gums
Overactive gag reflex
Trouble sitting still for a long time
Difficulties holding your jaw open
Neck or back pain
Multiple treatments that must be completed in one sitting
Nitrous oxide is not recommended for patients who are pregnant or have high blood pressure or certain other medical issues. For this reason, it's important to discuss your medical history with your dentist in Richardson before receiving sedation of any kind.
What You Can Expect After Your Procedure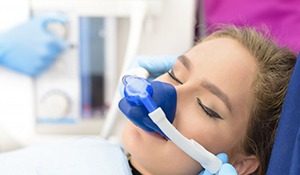 Once we're finished with our treatment, we'll cease administering the sedative. You'll be taken to a waiting area to sit while the effects of the gas dissipate. You should be back to normal within half an hour or so. Unlike other sedatives, nitrous oxide does not produce any lingering side effects. As a result, you should be able to drive yourself to and from your appointment with no problem. You should even be able to head straight back to work afterward!