Cosmetic Periodontal Surgery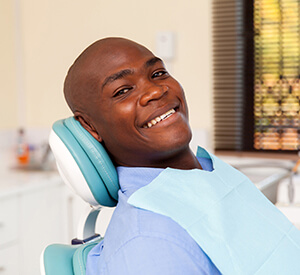 Did you experience gum recession following periodontal disease? Experience chronic dental sensitivity due to exposed tooth roots? Have teeth that look stubby or smile that looks gummy? You may be in need of periodontal surgery. We can provide a variety of soft tissue surgeries to reshape, even out, or improve the appearance of your gum line. Contact our Richardson, TX dental team to find out more or schedule an appointment with the dentist and team at EPO Dental Specialists.
Most commonly, we perform a reduction or reshaping of the gum to expose additional dental structure and leave your smile looking flawless, if teeth are covered with too much soft tissue. This procedure is known as crown lengthening, and it may also be necessary, as the name suggests, when there is inadequate dental structure visible beyond the gums to support a crown or other restoration.
We may also indicate a need for additional gum tissue due to soft tissue recession or other damage. This is less common than gum recontouring, and we typically recommend gum grafts in order to prevent sensitivity caused by exposed root structures. Whatever the reason we need to recommend a soft tissue graft, the procedure is complex and may require two or more visits to complete.