All-on-4 — Richardson, TX
Get a New Smile in a Single Day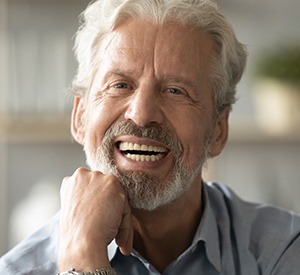 Many people who have suffered extensive tooth loss like the idea of getting dental implants. However, they may dislike the prospect of going through a long treatment process, or they may be worried that dental implants are not right for them because they have lost some bone density in their jaw. If either of these scenarios rings true for you, All-on-4 dental implants may fit your circumstances. You could get a set of implant-supported teeth in a single day!
How Do All-on-4 Implants Work?
As the name of the treatment implies, All-on-4 uses as few as four dental implants to support an entire arch of prosthetic teeth. Two of the implants are placed at an angle toward the back of the mouth, and two are placed at the front of the mouth — in places where the jawbone is naturally strong and thick. Then, usually on the same day as the placement surgery, a patient receives a provisional (temporary) denture to go on top of the implants. After a healing period, the patient receives a permanent denture.
Am I a Candidate for All-on-4 Implants?
Most people who have lost all or most of their teeth through a dental arch qualify for the All-on-4 treatment. Ideal candidates:
Have fair oral and overall health. You should be free of conditions that might interfere with your ability to heal after dental implant surgery, such as gum disease.
Have adequate bone density to support the implants. Thanks to the strategic placement of the implants, most people fit this criterion, even individuals who have already suffered some bone loss in the jaw.
Maintain excellent oral hygiene habits and do not smoke. Taking good care of your mouth on a daily basis decreases the risk of dental implant failure.
If you would like to find out if All-on-4 is a fit for you, get in touch with us to schedule your consultation. Dr. Vazquez, our periodontal expert, will examine your mouth and let you know what you can expect during your treatment journey.
What Are the Benefits of All-on-4 Implants?
Some of the most noteworthy benefits of All-on-4 implants include:
They are much sturdier than traditional dentures provide a strong bite force.
They are permanently fixed in the mouth, so you can care for them almost exactly like you would care for natural teeth.
They help to prevent deterioration of the jawbone.
Due to the streamlined nature of the treatment, All-on-4 is often faster and less costly than traditional implant procedures.
All-on-4 vs. Traditional Dental Implants
As noted above, All-on-4 may be less expensive and quicker than traditional dental implants in Richardson. Also, All-on-4 usually requires just one surgery, whereas traditional implants may require two or more. Additionally, traditional implants usually require a long healing period between implant placement and placement of the denture they support.
With all of that being said, traditional implant treatments do have their advantages. After a thorough evaluation of your mouth, our team will be able to recommend the procedure that best fits your circumstances.