Gingival Grafting in Richardson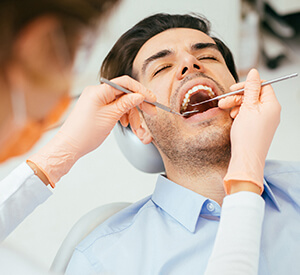 Whether due to periodontal (gum) disease or other oral health concerns, soft tissue recession can be hazardous to health. The gums provide protection from bacteria, anchor teeth, and support facial shape and volume. We may be able to renew oral health using gingival grafting. If you have questions about gum recession or periodontal therapies, contact the EPO Dental Specialists team to schedule an appointment.
Caught in early stages, gingival recession may be reversed with improved home care and more frequent professional teeth cleanings. However, if teeth have become lose or there is extreme dental sensitivity, we may need to reconstruct the lost soft tissue to protect teeth. We can use tissue from the top of the mouth (palate), other parts of the gum line, or from a tissue bank. The healthy tissue is attached to the area of the smile where tissue has recessed to protect the sensitive root structure. Following this procedure, patients typically experience some mild sensitivity or discomfort, but they will be able to make a complete recovery in just about a week.