Invisalign® Clear Braces – Richardson, TX
An Almost Invisible Way to Straighten Your Teeth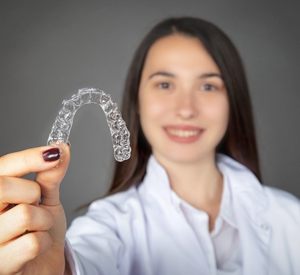 Have you been considering a straighter smile but don't want to deal with uncomfortable and noticeable braces? While effective, braces can cause self-consciousness, hassle, and even discomfort. Thankfully, at EPO Dental Specialists, we offer Invisalign clear braces to provide you with a way to align your teeth with comfort and style. We have a highly-trained orthodontist in Richardson, Dr. Jan Ortiz, who is experienced in Invisalign treatment. Keep reading to learn more about how you can align your teeth with comfort and confidence using Invisalign clear braces.
What is Invisalign?
Rather than using brackets and wires to shift teeth into position, the Invisalign orthodontic system uses a series of removable alignment trays to gently guide teeth into their desired position. We can use Invisalign to adjust teeth and correct a variety of bite alignment concerns including uneven spacing, overbite or underbite, and other orthodontic issues. Not every patient is a good candidate for Invisalign treatment, so call our office to schedule a consultation today.
Dr. Ortiz will take special images and impressions of your smile to develop your custom-made Invisalign aligners. You will wear each aligner for about 2 weeks, switching them out for the next one in your series to progress your treatment. You should wear your trays 20 to 22 hours a day, which means you should only take them out when you're eating and cleaning your teeth.
What Are the Benefits of Invisalign?
Invisalign in Richardson offers a set of unique benefits that you simply can't get with traditional braces. Its primary benefit is that it gives you the ability to straighten your teeth in your personal and professional lives without anyone noticing. This confidence boost comes in handy especially if you're already self-conscious about crooked teeth.
An additional benefit is the treatment time. On average, Invisalign takes a shorter amount of time than traditional braces. The treatment usually takes between 10 and 18 months, and it will typically require less visits to our office than traditional orthodontics.
Because Invisalign is completely removeable and made of smooth plastic, you won't have to worry about brackets and wires irritating the inside of your mouth. This design also allows for you to eat all of your favorite foods without damaging your orthodontics. Just take them out when you're ready to eat and put them back in after cleaning your teeth.
Who Should Consider Invisalign?
Invisalign can be used to treat mild to moderate misalignment in adults or older teens. The best way of knowing if you're a candidate for Invisalign is to visit our office. Dr. Ortiz will carefully examine your mouth, teeth, bite, and the condition of your oral health to see if you're a good candidate. Unfortunately, more severe bite and alignment issues can only be corrected by traditional orthodontics. Patients who are candidates for Invisalign must also be committed to wearing their aligners for the recommended amount of time
The Cost of Invisalign
Unfortunately, the cost of Invisalign is hard to determine without evaluating the patient's mouth. That's because there are so many variables and factors that contribute to the price like length of treatment, severity of misalignment, condition of oral health, and more. At EPO Dental Specialists, we accept dental insurance and do our best to provide quality dentistry that is affordable, too.
How Long Does Treatment Take?
On average, the treatment time for Invisalign takes between 10 and 18 months. This time will depend on the original position of your teeth as well as how committed you are to following our instructions. The treatment process can take longer if you don't wear your aligners between 20 to 22 hours a day.
Invisalign FAQs
If you're considering Invisalign, you may have some questions about the treatment. We understand that you may not know all of the in's and out's of this new technology, which is why we've included some frequently asked questions as well as their answers. Read on to learn everything you need to know about Invisalign in Richardson.